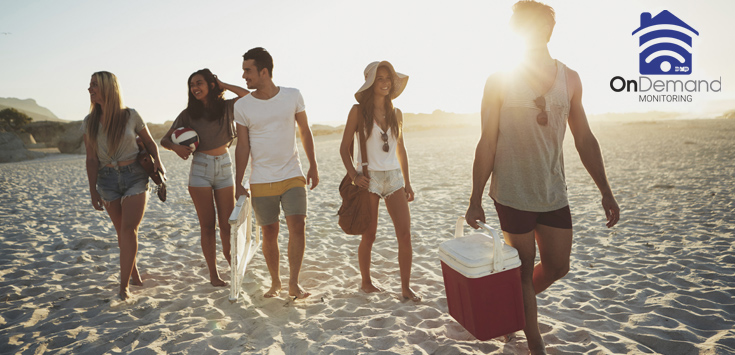 Introducing OnDemand™ Monitoring – Now Available on the Virtual Keypad™ App!
 OnDemand Monitoring appeals to anyone who wants the protection of an alarm system without a contract.
OnDemand Monitoring is a configured option that dealers can provide at their selection via MyVirtualKeypad.com or the Virtual Keypad App. The end users log into MyVirtualKeypad.com or the App and schedule the exact monitoring times they want and pay a per-day rate, set by the dealer. End users may set up their system to monitor on days they will be away from home and will have the option to turn off monitoring when they choose.
With the Version 5.4 software update on Apple and Android, users can now take advantage of OnDemand™ Monitoring on the App! A new Monitoring tab has been added to the menu options. Users will only see this tab if you have activated OnDemand Monitoring on their account in the Dealer Admin Site.
In the App, customers can schedule monitoring in increments of 1-30 days. They choose the start and end time and date, enter a credit card, and the monitoring is automatically set up to begin and end. Users may also see a list of scheduled monitoring events and past monitoring dates. Multiple credit cards may be stored for ease of access. A user may cancel monitoring once it has been scheduled, and the days will be credited to the account. If this occurs, the number of credited days will appear at the bottom of the Schedule Monitoring screen.
"As opposed to a standard yearly contract, the system's lack of contract allows for a short-term pay option," said Jeff Britton, DMP's Vice President of Product Design. "The flexibility of this system allows dealers to go after new markets."  
Mark Hillenburg, Executive Director of Marketing at DMP added, "OnDemand is a new thought in the security systems' market. We see it as a great opportunity to put products in place that appeal to millennials or to other types of customers where traditional solutions may not work for them, allowing dealers to leverage new customers by appealing to a broader market."